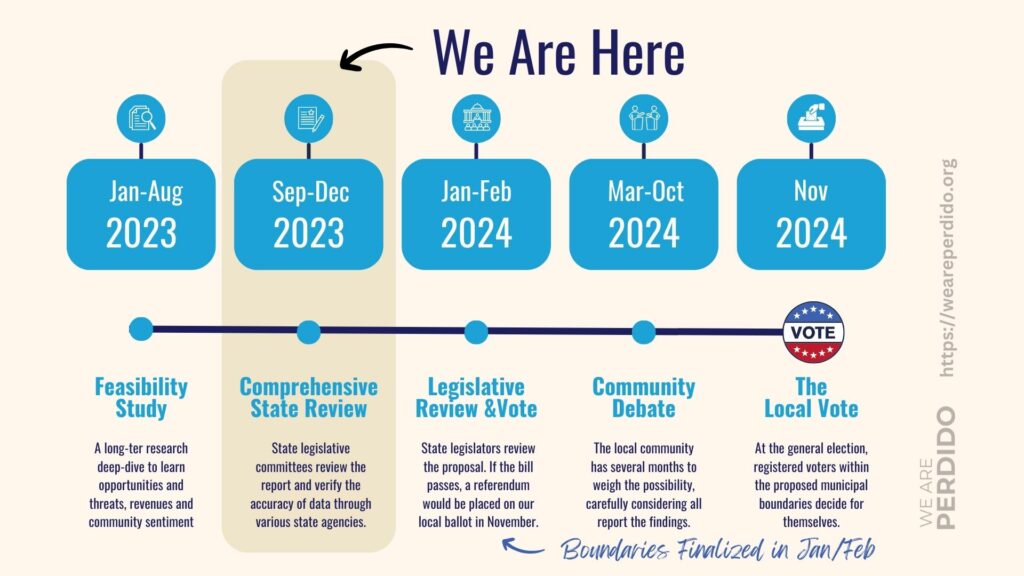 The mission of We Are Perdido is to provide education and educational resources to the Perdido community, with regard to the process of municipal incorporation.
The journey of the We Are Perdido organization began in September 2022, when a handful of Perdido residents simply asked, "Could there be a better way to address our local issues?" How can a local community be empowered? Is there a way forward that allows citizens to actively make local decisions and  guide their own future?
Community Voices
Conversations in neighborhood social media channels by concerned residents encompassed a variety of local concerns, forming a pattern. Residents frequently knew how issues should be addressed, but had little power to get things done. Was there a way to make these decisions locally?
Research Begins
The Florida League of Cities (FLC) provides research and guidance on various options available for local citizens to gain local control over local issues. FLC University offers instruction and many foundational resources for municipal research. FLC also has connections with many community leaders around Florida who have worked on similar projects and have valuable insight.
Perdido's History
It is important to understand the history of a community before trying to address any issues. Several long-term residents who lived in the area for twenty, thirty, or even forty years, shared their unique perspectives. They had watched this area develop over decades, and understood the community's unique needs and challenges.
Envision Perdido
The topic of municipal incorporation had been previously discussed by members of our community over the years. Serious efforts were made through Envision Perdido, circa 2002. Their numerous achievements included the Southwest Escambia County Sports Complex, a Sheriff outpost on Gulf Beach Highway and the Visitor's Center on the Key.
Other Local Efforts
Other initiatives on Perdido Key over the years were designed to manage land use but did little to bring local control to citizens. These included the Neighborhood Plan in the 1990s, the Perdido Key Master Plan (PKMP), and an overlay district (the two most recent took years for the county to complete during the last decade). This pattern also occurred in other Florida communities that became successful municipalities.
Contemporary Efforts
Save Siesta Key is another community currently considering municipal incorporation. Community organizers shared details of the process, pitfalls, and costs associated with municipal incorporation efforts, and they explained the "government lite" model. FLC also gave references for other Florida municipalities that successfully implemented "government lite" and became award-winning cities.
Gathering Data
Escambia County Tax Collector supplied the Perdido community tax roll information. Initial calculations pegged the area's 2021 taxable real estate value at $2.699B (after exemptions). This metric is similar to the tax base of many of Florida's small cities. The Escambia County Clerk & Comptroller's office was a source of further detail on tax revenue. US Census data showed a population of around 20K.
The Central Question
Local discussions focused on the question, "What if Perdido were a city?" Many thought it was a great idea. Some were skeptical at first, but nearly all were interested to learn more. And most were intrigued by the "government lite" model and the solutions that it could offer the Perdido community.
Key Connections
Florida League of Cities and local community members identified key connections in the Perdido community. Several individuals who had worked at both the county and state levels over the years shared their knowledge, guided efforts, and helped to build new connections within the area.
D1 Town Hall Meeting
On Tuesday, October 25, 2022, Escambia County held a District 1 Town Hall meeting. A statistical analysis of the transcript was generated, looking for frequently mentioned topics. These were assembled into a "word cloud," a visual representation in which frequent keywords are depicted in a larger font size to highlight their statistical importance. During the meeting, multiple questions were posed by citizens concerning the idea of municipal incorporation.
Updated Statistics
Escambia County Tax Collector provided updated 2022 data on the Perdido community. The taxable real estate value of the target research area increased over 30%, from $2.699B to $3.524B in just one year. In all, Perdido contributes over $60M each year in revenue to our county.
Research Firms
Contact was made with highly recommended firms that specialize in feasibility studies for municipal incorporation in Florida. Florida League of Cities also recommended connections with legislative counsel who focus on working with our state legislature throughout the municipal incorporation process.
Rep. Andrade Meeting
The process of municipal incorporation requires a special act of the Florida state legislature. On November 14, 2022, a group of local business leaders and concerned residents met with state Representative Alex Andrade, District 1. They discussed the research gathered, local issues, and the idea of Perdido's municipal incorporation.
Sen. Broxson Request
Following conversations with state Representative Alex Andrade, state Senator Doug Broxson's office was contacted to request a meeting. Senator Broxson's office requested that the topic be presented publicly at the Escambia County Legislative meeting on December 7, 2022.
Notified Commissioners
Commissioner Jeff Bergosh (District 1), and Commissioner Mike Kohler (District 2), were both contacted to request meetings and inform them of the invitation to present at the local delegation on December 7. The hope was for face-to-face meetings before the 7th to discuss the gathered research and local sentiment that led to the consideration of municipal incorporation as a possible solution to community concerns.
Legislative Delegation
At the invitation of state Senator Doug Broxson, the topic of Perdido's municipal incorporation was presented at the Escambia County Delegation meeting. A summary of our research was submitted, along with a statement regarding the desire to, with the input of the Perdido community, produce a feasibility study, a 5-year projected budget, and a draft city charter, for the delegation to consider as a local bill in 2024.
Website and Intro Video
In conjunction with the Escambia County Delegation meeting, the WeArePerdido.org website was launched along with an intro video providing an overview of research, the premise for municipal incorporation under the "government lite" model, and plans to begin community meetings in January 2023.
An Organization
Any endeavor to work within a community toward possible municipal incorporation is a complex undertaking. Many other Florida communities used a non-profit 501(c)(4) structure to provide education to local citizens, organize meetings, and forge a path to become a city, town, or village. This model provided a good example for local efforts in Perdido. Efforts began towards formally founding the organization.
Planning Begins
The organization's mission of the education of the Perdido community spurred community meetings that could offer local residents a voice in the future of Perdido. The first community meetings were scheduled to begin in January 2023, and to that end, planning began. 
Non-Profit Formation
January 1, 2023, We Are Perdido, Inc., was officially formed as a non-profit Florida corporation and filed for status as a 501(c)4 non-profit, with the mission of providing education and educational resources to the Perdido, Florida community with regard to the process of municipal incorporation. 
Interviews with Firms
The board of directors interviewed three separate firms experienced with municipal incorporation in the state of Florida. The firm selected was BJM Consulting, an expert in the "government lite" model, having produced over 30 feasibility studies, and responsible for producing the study of Indiantown, FL, Florida's most recent municipal incorporation.
Our First Meeting
On January 23, We Are Perdido hosted the first of many community meetings, held at Liberty Church on Blue Angel Parkway. The special guest was Lynn Tipton from the Florida League of Cities, Director of the FLC University, the league's education arm. District 1 and District 2 county commissioners were in attendance, along with well over 300 local residents.
Feasibility: Phase One
BJM Consulting, Inc., began work on Phase One of the feasibility study. Using data from Escambia County Tax Assessors Office, Florida Department of Revenue, and United States Census Bureau, the initial report and draft first-year budget was developed in order to identify any financial roadblocks and tax implications to the community of Perdido. Results would be presented in late spring, 2023.
Community Meet-Ups
We Are Perdido began hosting weekly neighborhood meet-ups throughout the Perdido community. These "Thirsty Thursday" events allowed residents to meet with organization members, express concerns, ask questions, and get updates on the progress. Citizen concerns were then communicated to BJM Consulting, Inc., for consideration in the feasibility study.
Charter Committee
In April, under the guidance of BJM Consulting, Inc., the board of We Are Perdido commissioned a municipal charter committee. This citizen-led workgroup was tasked with reviewing multiple municipal charters, researching the pros and cons of each element of the charter, and ultimately producing a draft municipal charter that could then be reviewed by municipal attorneys and the feasibility firm.
Town Hall Meeting
Having received and reviewed the Phase One report of the feasibility study, and with Phase Two underway, the We Are Perdido organization held a follow-up town hall meeting on May 16th. The goal — present Phase One results, discuss initial Phase Two findings, and clarify the next steps regarding the overall municipal incorporation process. The Phase One results established a baseline for budget projections, based on current service levels for current dollars, and showed that at first-glance, the approach was financially feasible for our community.
Feasibility: Phase Two
BJM Consulting, Inc., began work on Phase Two of the feasibility study. This included approximately forty community leaders completing long-form surveys regarding strengths, weaknesses, opportunities, and threats to the Perdido area, and the prospect of municipal incorporation. BJM Consulting also conducted a "boots-on-the-ground" tour to assess the area and look for unfunded liabilities and items that could prove problematic if citizens were to form a town. 
Charter Workgroups
Local citizens who volunteered to serve on the charter committee met several times and drafted a proposed municipal charter. Multiple retired town managers provided feedback, and the draft charter was reviewed by municipal attorneys.
Feasibility: Phase Three
BJM Consulting, Inc., completed the third phase of the feasibility study and authored a final report which it would publicly present to the Perdido community on August 21, 2023, at the third neighborhood meeting.
Feasibility Results
With the feasibility study completed, BJM Consulting planned to visit the Perdido community to share the study findings, which We Are Perdido expects to submit to the state legislature. Joe Mazurkiewicz, Jr., president of the firm, planned to share the results. "This report takes no position on incorporation. We draw no conclusions and make no recommendations," said Mr. Mazurkiewicz. "We lay out the facts." The study is just one step in a two-year process that, if successful, would allow registered voters to make the decision for themselves at the 2024 general election, whether or not to become a town.
Study Submitted
With the feasibility study and draft municipal charter completed, We Are Perdido delivered them and other required supporting documentation to the state of Florida for review. 126 pages in total, the material is reviewed and commented on by the Office of Economic & Demographic Research, Department of Revenue, and others.
Community Meet-Ups
We Are Perdido began plans for fall meet-ups and community meetings to discuss the study's findings, the draft municipal charter, and next steps as the proposal makes its way to become a local bill.